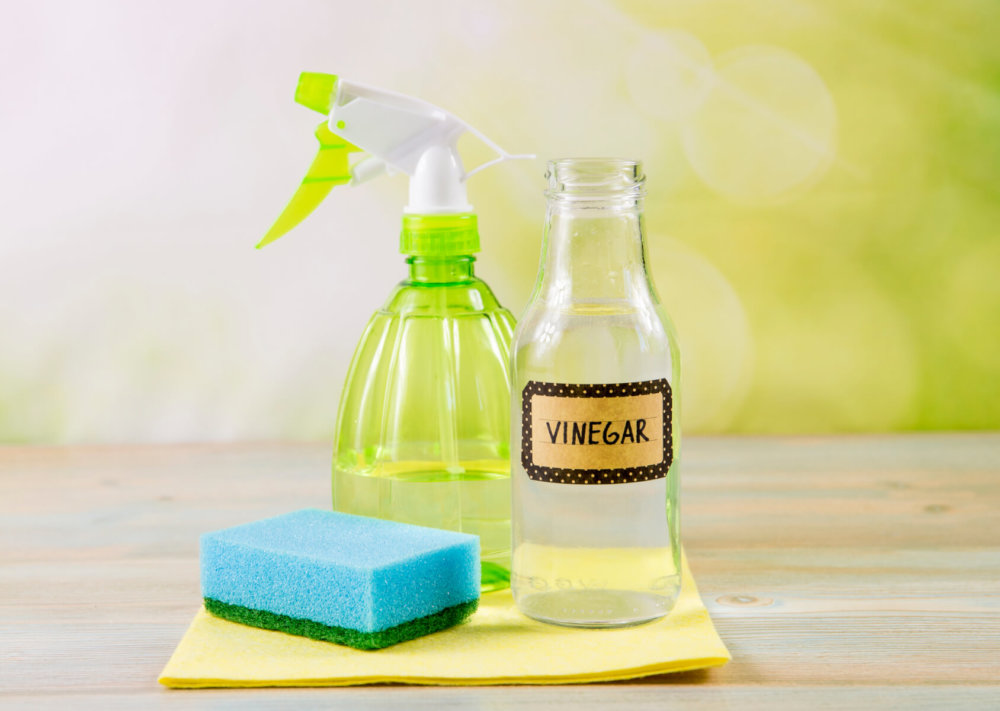 April 2020
What's the first thing that comes to mind when you hear the word vinegar? Probably a salad dressing, a cooking ingredient, or maybe even the distinct smell. But did you know that there are surfaces and appliances in every room in your apartment that can be cleaned with vinegar? Distilled white vinegar (not to be confused with red wine, balsamic, apple cider, and other cooking vinegars) is inexpensive, natural, and tough on bacteria, odors, and grime.
Let's take a look at a DIY all-purpose cleaner and then go room by room, exploring some cleaning hacks using vinegar.
Making an All-Purpose Cleaner with Vinegar
Ditch all of the chemicals and cleaners under your sink this spring and go natural. The things you'll need: an empty spray bottle, distilled white vinegar, water, and an essential oil of choice. Fill the empty spray bottle with two parts vinegar to one part water and shake it up. Not thrilled with the smell? Insert essential oil; adding a few drops will cut the potent smell and add even more purpose to your cleaning efforts. Lemon essential oil is both antiviral and antibacterial, wild orange is tough on grease, and lavender is antibacterial and relaxing.
To tackle countertops, stained sinks, and tough spots like shower heads and tubs, add dish soap to the cleaner. In this case, start by mixing one part vinegar to one part dish soap and then add water and an essential oil to dilute; depending on how strong you want it to be.
The Kitchen
In the kitchen, start by wiping up spills and cleaning out fridge drawers. Wipe away grease buildup on the stove, inside the microwave, and even run your empty dishwasher with a cup of cleaning vinegar to make the inside of it sparkle just like your dishes. Other uses include:
Polishing tea kettles
Cleaning out the sink drain
Cleaning cutting boards
Removing stains from plastic food containers
Wiping down countertops (excluding granite and marble surfaces, etc.)
 The Living Room
In the living spaces of your apartment, vinegar can assist in removing water rings on wood furniture, with some help from olive oil and a very soft cloth. Keep glass tables and cabinet doors sparkling, remove carpet stains, and clean area rugs. Other uses include:
Eliminating carpet odor
Removing pet odor
Creating a wood floor wash
Removing set-in fabric stains
The Bathroom
In the bathroom, almost every surface can benefit from vinegar in one way or another. Use it to scrub away bacteria, especially around the toilet, and where there may be stains and odors. Wipe down the shower, tub, toilet, and sink, and use it to unclog drains. Other uses include:
Mopping tile floors and cleaning tile surfaces
Removing scum from glass doors and windows
Eliminating odors
The Bedroom
You can even freshen up your bedroom with vinegar; create a mattress disinfectant with cleaning vinegar and spritz your mattress to help fight dust mites, mildew, and odors. Eliminate carpet odors as well and even brighten up gym clothes and towels with specific vinegar concoctions. Other uses include:
Washing windows and mirrors
Cleaning up pet accidents
Deodorizing the room
Cleaning leather and suede shoes