Area Activity Guide: It's a Wonderful Life & A Handmade Holiday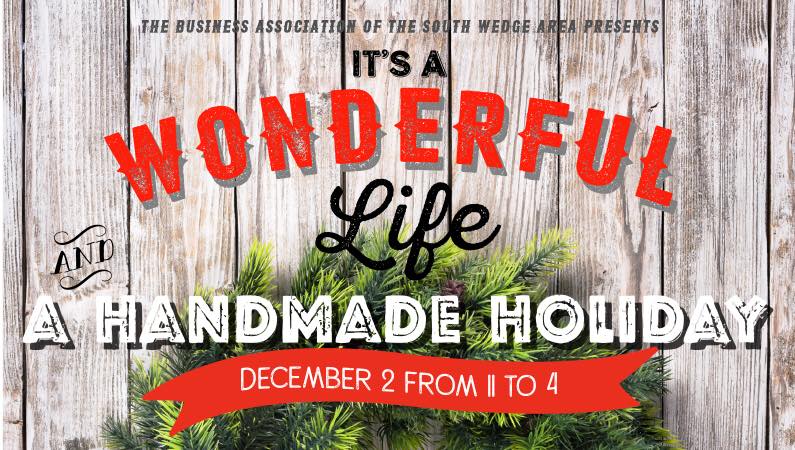 It's always a wonderful time to be in the South Wedge, but on December 2nd, the neighborhood will ring in the holidays in spectacular fashion. It's a Wonderful Life in the South Wedge + A Handmade Holiday is a daytime celebration of everything you love about living in the Wedge — community, art, food, and culture. It's all courtesy of BASWA — the Business Association of the South Wedge Area.
It's a Wonderful Life in the South Wedge!
A visit to Star Alley the first Saturday of December is all you'll need to don the holiday spirit. You'll be transported to Christmas past with pine boughs and decorations while a horse-drawn carriage strolls the neighborhood. There will be plenty of crafts, activities, and games for all ages. Live musical performances will include the Flower City Pride Band, Bagpiper Matt Weasner, Resonanz (The Rochester Oratorio Society), and The Buddhahood. Dozens of local shops and restaurants will be offering special discounts for the day, so be sure to support the small businesses that keep our neighborhood hopping all year round!
A Handmade Holiday
Don't let the happenings in Star Alley keep you from discovering the perfect one-of-a-kind handmade gifts! The third-annual installment of A Handmade Holiday will feature more than 70 local artists and makers showcasing their wares in The Historic German House and St. Boniface Church (a one-minute walk away). Hours are 11 a.m. to 4 p.m. — the same as the rest of "It's a Wonderful Life in the South Wedge" — so plan your day accordingly. Customer admission is FREE! This one's hosted by Little Button Craft and Hedonist Artisan Chocolates.