Area Activity Guide: Rockin' Rochester Weekender
July 2019
Ready to Rock, Rochester?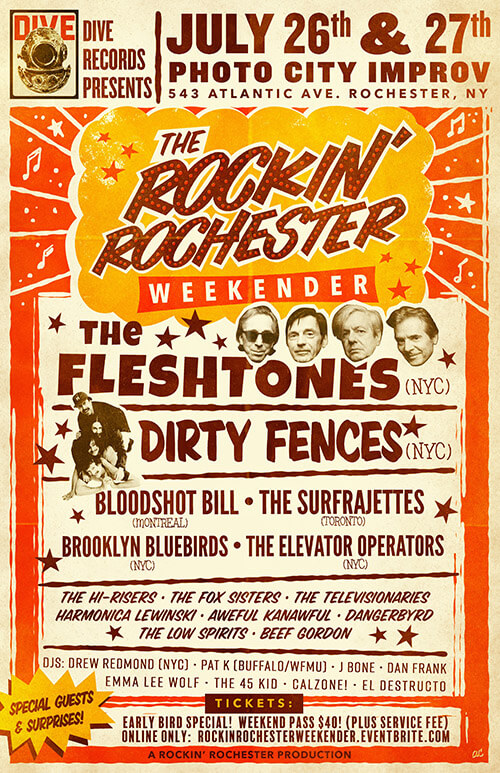 Crowd-pleasing outdoor shows are great, but when you really want to Rock Rochester, it's a bit more of a production. Enter Rockin' Rochester Productions, which has brought together 12 bands, 8 DJs, and a late-night dance party for two glorious summer nights of Rock 'n' Roll – right here in Rochester. Performers will be coming from near, far, and across the border to celebrate the legacy of two iconic clubs – New York's CBGB and Rochester's Scorgies. It's all going down during the Rockin' Rochester Weekender at Photo City Improv on Atlantic Avenue, Friday and Saturday, July 26th & 27th.
Music & More
In addition to live performances, you can expect DJs spinning rare, hard-to-find, danceable records late into the night. There will be plenty of retro ephemera from Nostalgia Inc., Retro-Verte, and One Round Jack. Sticky Lips will be offering both carnivorous and vegetarian concessions, too. It all adds up to a "fun, joyous celebration of the spirit of garage rock."
Two nights of Rock'n'Roll!
FRIDAY, JULY 26th:
Bands: THE FLESHTONES (NYC), The Hi-Risers, The Elevator Operators (NYC), Harmonica Lewinski, Aweful Kanawful, Dangerbyrd, Beef Gordon
DJ's: The 45 Kid, Bad Wolf, El Destructo
Late Night Dance Party DJ: Pat K (WFMU)
SATURDAY, JULY 27th:
Bands: DIRTY FENCES (NYC), Bloodshot Bill (Montreal), The Surfrajettes (Toronto), The Fox Sisters, The Brooklyn Bluebirds (NYC), Televisionaries, The Low Spirits
DJ's: Dan Frank, CalZone!, J Bone
Late Night Dance Party DJ: Drew Redmond (NYC)
Get more info on all the bands here. You'll find itineraries and much more on the Rockin' Rochester Weekender Facebook page. Get your tickets at EventBrite.