Easy Refrigerator Pickles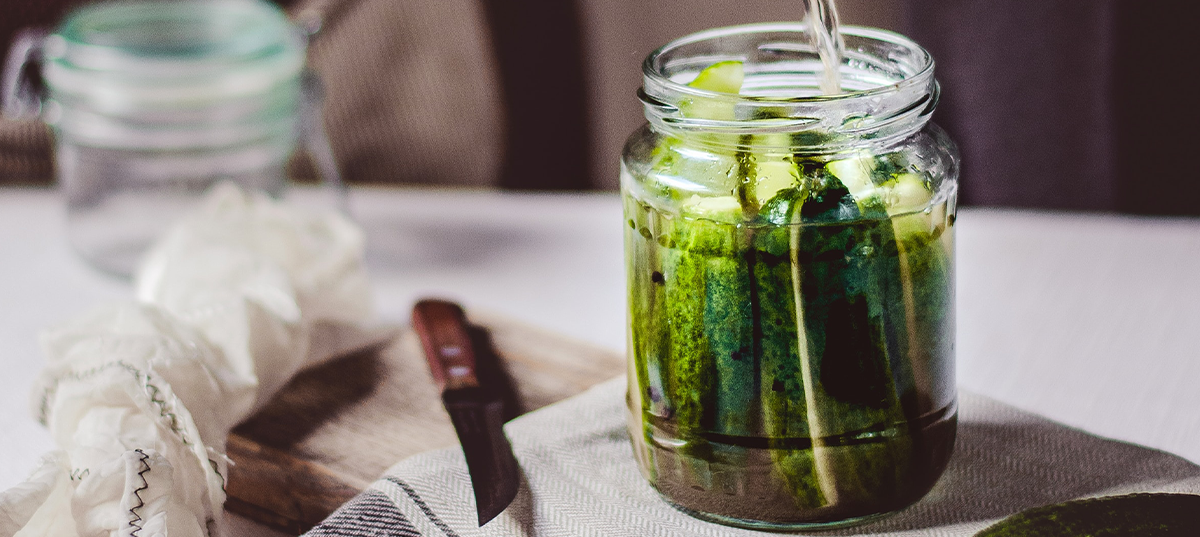 August 2023
Locally grown cucumbers are in season and there's nothing better than visiting the farmers market, picking up some cukes and making your own pickles. And with this recipe, there's no sterilizing jars or even boiling water. It couldn't be easier and they couldn't be more delicious. They're also naturally gluten-free and vegan.
To really make it a special experience, start with a trip to the farmers market. The South Wedge Farmers Market happens every Thursday from 4-7PM and the Rochester Public Market is open Tuesdays and Thursdays from 6AM-1PM and Saturdays from 6AM-3PM.
While any cucumber can be pickled, the best cucumbers for pickling are varieties that are smaller, crunchier, and have a porous skin. Look for pickling cucumbers, or Kirby cucumbers. They have bumpy, spiny skins, are never waxed, and range in color from pale yellow to dark green.
Ingredients
1 cup distilled white vinegar
1-1/2 tablespoons kosher salt
1 tablespoon sugar
1 cup cold water
1 poundKirby cucumbers (about 3), cut into halves or spears
1 tablespoon coriander seeds
3 large garlic cloves, peeled and halved
1/2 teaspoon mustard seeds
1/8 teaspoon red pepper flakes
6 dill sprigs
Instructions
Combine the vinegar, salt and sugar in a small saucepan over high heat. Whisk until the salt and sugar are dissolved. Transfer the liquid into a bowl and whisk in the cold water. Refrigerate brine until ready to use.
Stuff the cucumbers into a clean quart-size jar or two pint-size jars. If using smaller jars, you may have to cut the cucumbers shorter. Add the coriander seeds, garlic cloves, mustard seeds, red pepper flakes, dill sprigs, and chilled brine into jars, dividing evenly. If necessary, add a bit of cold water to the jars until the brine covers the cucumbers. Cover and refrigerate about 24 hours, then serve. The pickles will keep in the refrigerator for up to one month.
At South and Hickory Place, we have some of the most beautiful kitchens you'll find in a South Wedge rental. They come equipped with maple cabinetry, full-size appliances, microwave, and garbage disposal. Whether you're a full-fledged foodie or just occasionally cook at home, we want to make sure you enjoy cooking in your apartment. So, give these easy refrigerator pickles a try. They're like putting a little bit of summer in a jar!
Source: onceuponachef.com