New York State Maple Weekend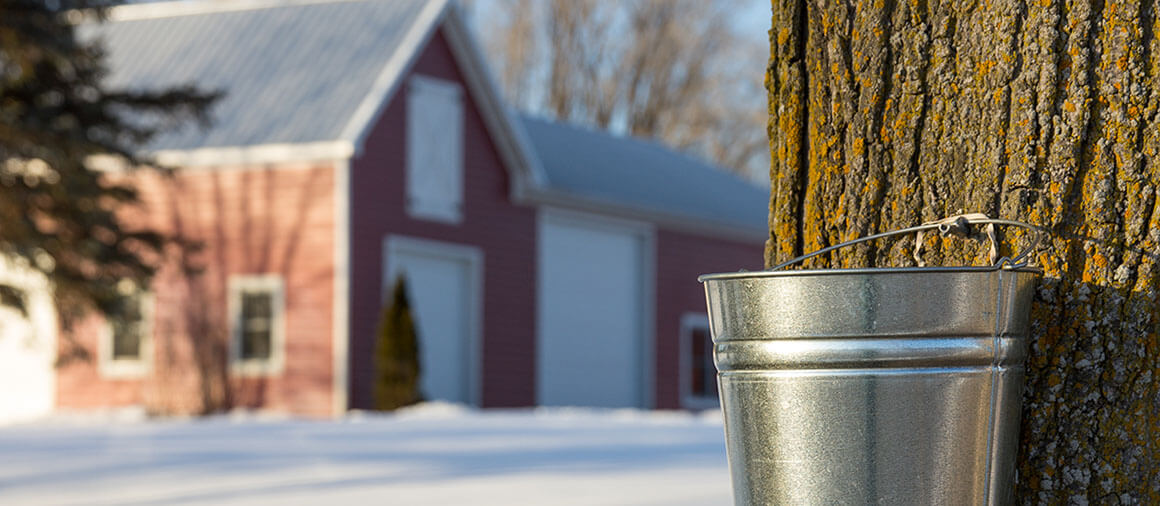 Discover New York Maple Sugaring
Maple Weekend – actually two weekends, March 23-24 & 30-31, 2019 – is a chance for members of the public to visit local farms and learn about maple sugar-making in New York State. From modern processes to age-old traditions and an opportunity to taste pure maple syrup direct from the source, Maple Weekend is a celebration of a regional natural treasure. Thanks to sponsorship by the NYS Maple Producers' Association, maple farms throughout the state will open their barns and sugar bushes to experience up close how watering maple syrup and other related products are made. Visitors can expect pancake breakfasts, family-friendly activities, tours, samples, and access to some spectacular fresh maple products. What started in 1995 as a simple "Maple Sunday" is now a statewide celebration and agri-tourism opportunity.
Maple Weekend activities will run between 10 am and 4 pm each day at most locations, but check your planned destination for specifics and exceptions. Most locations are rustic, so wear sturdy, closed-toe shoes. See the full list of participating farms here.
Participating Farms Near Rochester
Walk the trails as volunteers take you through the sugaring process. Help collect sap, stop at the evaporator, and watch it cook into syrup. Make and try treats like sugar on snow, maple ice cream, cornbread with syrup, cookies, and milkshakes! Refreshments and crafts for kids will be available for purchase.
Visit this farm for an all-you-can-eat pancake breakfast, horse-drawn and tractor wagon rides, a petting zoo, craft sale, and kids' activity zone. Tour the sap house and get a bird's-eye view of the sugar bush. Maple products and baked goods will be for sale, and visitors will enjoy samples of syrup and other delicious maple products. Breakfasts are also served next door at the neighboring Log Cabin Restaurant.
Tour the Sugar Bush and Sugar House, then see how sap is collected and made into maple syrup, cream, and candy. Hike the gravel trails through the Sugar Bush and see how a modern tubing and vacuum system works. Enjoy free samples and homemade doughnuts! An all-you-can-eat a la carte pancake breakfast is served all day! Adults $8.50, children 12 and under $4.50. Sides and beverages additional. It's a great family outing for all ages, and the property is fully handicap accessible.
This stunning maple farm is located just around the corner from Eastview Mall! Visit the maple/honey sugarhouse and tour the beautiful 11-acre sugarbush. Adopt-a-Maple families are invited to come see your trees in action! Kids will love the chicken "chunnel", too!
This family operation produces about 200 gallons of maple syrup each year. Syrup, candy, and gift bottles will be available for Maple Weekend, along with free samples of various syrup grades. Reverse osmosis and bottling demonstrations will be conducted when sap and syrup are available. Maple videos and hands-on demonstrations will be running throughout the day.
Sugar house tours will include historical explanations of the syrup-making process and the farm. Kids can get the chance to drill and hammer a tap into a tree (with assistance). The sugar house tour includes cooking demos with samples, as well as tastings of the different grades of maple syrup. It's great for families, with a petting zoo, monster truck, and 4WD tractor on display.
Genesee Country Village & Museum
During the Maple Sugar Festival at Genesee Country Village, you can see sap boiling, candle-making, coopering, a replica sugar shack from the 1800's, and much more! Kids 18 and under get in free.