Recipe Spotlight: Poutine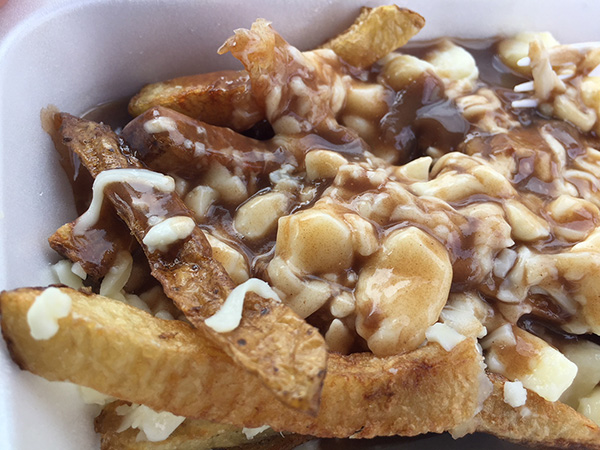 Have you tried that thing? With the fries? And the stuff?
That ultra-savory dish that's so messy you have no option but to eat it with a fork is called Poutine, and it's absurdly delicious. It may seem simple and silly, but the handful of ingredients are carefully considered and timed to deliver a supremely satisfying experience in both flavor and texture. While plenty of people pooh-pooh poutine, there's no denying that Rochester's very own Le Petit Poutine consistently has one of the longest lines at the Food Truck Rodeo.
Upstate New York, Eh?
Any native New Yorker will be quick to clarify that Poutine hails from above the border. But that doesn't prevent our region from sharing this Québécois comfort-food. After all, it's like a garbage plate, just French Canadian. While Americans see fit to serve it up with everything from eggs and hot sauce to foie gras and caviar, the authentic preparation calls for frites (French fries, soft in the middle, crispy on the outside), a substantial but not-too-thick gravy, and fresh cheese curds.
Grab a Bite!
North of the border, you can find this simple-yet-delectable delicacy everywhere, including at pizza shops, convenient potato shacks and chip trucks. Thanks to our own food trucks and local restaurants committed to offering awesome appetizers, there's no shortage of poutine right here in Rochester. If you've yet to enjoy this basic and beautiful take on junk food, get started with a visit to Tap & Mallet, Lento, or Le Petit Poutine!