St. Patrick's Day in Rochester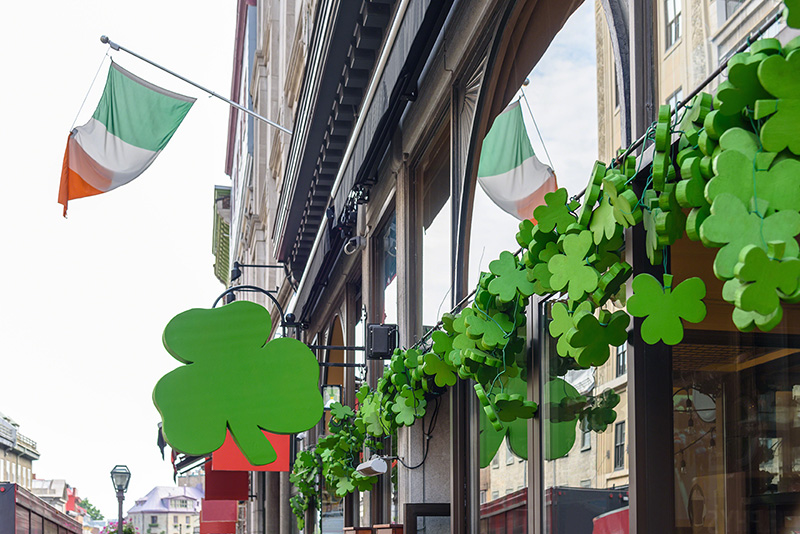 St. Practice Day?
If you went out on the town this past weekend, you might have noticed signs celebrating St. Practice Day. What's the occasion? The loss of one. Most years, revelers pile into food and drink establishments twice to mark St. Patrick's Day — once on the Saturday of the parade, and again on March 17th. Since the holiday falls on a Saturday this year, all the festivities will be consolidated into one raucous day of celebration. That means just one day to pack in all your partying — and your purchases. So if the Irish Pub hits you with the hard sell, exercise a little patience. They're as disappointed as anyone about one less day of revelry. Here's a list of the core events from which to make your single-day St. Patrick's celebration itinerary.
St. Patrick's Day Events in Rochester
Mass – 9:00 am
Join the Parade Committee for Mass at St. Mary's Church, 15 St. Mary's Place, Rochester, NY.
Johnny's 20th Runnin' of the Green – 9:30 am
Kick off your Spring and your race season with Johnny's 5-Mile Runnin' of the Green, hosted by Johnny's Pub & Grill and Bill Kehoe. This must-run five miler starts at 9:30 am at the War Memorial (Exchange Street & Broad Street). Runners can register online or at Johnny's in advance for $30, or in person on race day at the Blue Cross Arena from 7 am to 9:15 am for $35.

TOPS Rochester St. Patrick's Day Parade – 12:30 pm
This year marks the 41st year for Rochester's St. Patrick's Day Parade and the first year iPhone users can download a dedicated Rochester Parade App. The free app serves as a handy guide to the people and places that will make this year's parade a success. The Rochester St. Patrick's Day Parade is a "Moving Show" dedicated to the celebration of St. Patrick and his life of service to others. This year's parade will feature performances by nine different marching bands and drum lines and seven schools of dance. Regardless of how rowdy other festivities may be, the parade's mission is to be fun, entertaining, family-oriented, and crowd-pleasing. To attend the parade, you can make use of a number of parking garages are located around the city, including on South Clinton, Main Street, East Avenue, and Woodbury. There is also street parking available on most side streets. Keep in mind that the RPD typically blocks all traffic along the Parade route at about 11:30 am.
Substantial Security
St. Patrick's Day kicks off a new focus on security for Rochester's festivals and special events. Local Police and Fire Departments will work with the Rochester Joint Terrorism Task Force to expand security measures at all large events moving forward. These measures are not in response to any specific threat, but rather to events nationwide involving large crowds. If you see something suspicious at an upcoming event, the city urges you to say something by calling 911.
Celtic Family Faire – 11 am-4 pm
Come in from the cold! Perfect for all ages, the Celtic Family Faire is held each year on the second floor of the Rochester Riverside Hotel from 11:00 am to 4:00 pm. It has featured Irish Dance performances, a magician, Petting Zoo, Build A Bear, Photo Booth, Hair Braiding, Temporary Tattoos, and craft stations. The event is alcohol-free, and admission is your donation to CURE Childhood Cancer. Food and Drink will be available for purchase.
Post-Parade Party – 2 pm
Looking for a more adult-oriented party after the parade? Also being held at the 
Rochester Riverside Hotel is a post-parade party sponsored by Bud Light. Show up early to watch the parade from an amazing vantage point while 
98.9 The Buzz broadcasts from the hotel. After the marching bands have passed by, take in a live performance by Download, Rochester's premier rock cover band, then dance to even more tunes spun by the DJs from Encore Events! There is NO COVER CHARGE.